Throw Pillows & Decorative Couch Pillows
Style Throw Pillows on Your Sofa Like a Designer

Throw pillows lend a comfortable and sumptuous ambiance to your room. Pillows are also a simple way to bring your personal style into your space. But styling a sofa with throw pillows is not always an easy as it seems because there are so many different sizes, materials, and patterns to choose from.
The good news that choosing the right pillows for your space can be easy if you follow a few simple rules. Knowing how to style throw pillows on a sofa comes down to styling, mixing, matching, coordination, and grouping to keep things fresh.

How to Select Throw Pillows
When choosing the right throw pillows for your sofa, start with the right size. Choose a base size, then consider adding other sizes to coordinate. You need to decide on the number of pillows you will use. For a standard sofa, five is best. Lastly, consider your living room's existing style, and colours.

Pillow Size
The size of your throw pillow is the first and most important point to choosing throw pillows for your sofa. Start with the dimensions of your sofa. Throw pillows should complement your sofa. Throw pillows that are too big can overwhelm the room's décor but if the pillows are too small, they too will look out of place. For a regular-sized sofa, start with a twenty-inch square throw pillow. However, if your living room has a more contemporary or modern sofa with a lower back, use a smaller eighteen-inch throw pillow as your starting point instead. Variety plays a major role in styling sofa pillows, so consider adding a few larger or smaller pillows too. Arrange the throw pillows by size, starting from the largest in the far corners and working to the smallest into the inside.
How Many Pillows Do You Need?
When grouping pillows on a sofa, most interior designers agree that an odd number usually looks best. Three throw pillows is the magic number for loveseats and five or seven is the number for a standard sofa.
The one exception to the even-numbered rule is in more modern, contemporary-style living rooms. An even number of pillows creates the symmetry that works best. In this case, you can get away with two larger pillows at each corner of the sofa. This helps you adhere to the contemporary vibe of your space.

Creating pillow groups is a big part of knowing how to style a sofa with throw pillows. Two pillows, a larger and a smaller one, can look great in a corner of a loveseat with a third pillow in the other corner. Because five is the perfect number on a sofa, this gives you the freedom to play with styling. Place two pairs of throw pillows in each corner and a lumbar pillow in the middle or a three-by-two distribution can also look beautiful.
How to Choose the Right Colour?
Your living room's colour scheme will help direct your throw-pillow choice. Start with the anchor colour you need and look for pillows in the closest shade. If your goal is an eclectic look, opt for bold patterns that use your anchor colour but if you're aiming for a more subtle vibe, consider solid colour throw pillows.

You can choose up to two more shades that complement your living room decor. Choose between bold prints or solid colours. Finding colours that look good together is not as hard as you may think.
You can consult a colour wheel.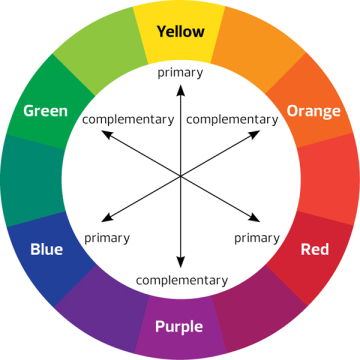 For high impact, consider a combination of opposites or contrasting colours. For a more balanced look, choose two shades near each other on the colour wheel.

Mix 'n Match Patterns and Solids
With so many throw pillows to choose from, working patterns and prints into your living room decor should be easy. The key to selecting complementary patterns is making sure they share a dominant colour. If you have already chosen your anchor colour for the solid colour throw pillows, now you can choose pattern that share similar colours and hues. This will create a cohesive designer look.

Have Fun
Knowing the rules is important but being able to break the rules and experiment with size, shape, and colour can be inspiring. Every home is different, so have fun with styling throw pillows, and find what looks best to your eye.