The Best Wooden Dining Tables for 2023
2023-03-30 at 20:34 pm
The Best Wooden Dining Tables for 2023

Finding the perfect wooden dining table for your home in can be a challenge. With so many options available, it can be difficult to make the right choice. But at Dot Furniture we present the Best Wooden Dining Tables for 2023.

Wooden tables are known for their timeless designs which can last for generations. Whether you're looking for a classic style or something more contemporary, there are plenty of wood dining tables to choose from. Live edge dining tables are becoming increasingly popular in 2023 due to their unique look and feel. These tables feature natural edges that create an organic look that adds character to any room. Matching dining benches are also a great way to add seating without taking up too much space and complete the look for a designer look.
 
The Hudson Live Edge Table
Beautifully handcrafted, solid mango wood, live edge table with black square shaped legs. This table features a single block of wood which showcases the natural beauty and character on the wood. Display it in your home with pride, no two tables are exactly alike.

Hudson Dining Table shown with Brooklyn Dining Chairs
The Kelowna Live Edge Table
Take your rustic industrial chic styling to the next level with the Kelowna Live Edge Dining Table. This beautiful table has a sleek, smooth surface and live edges that will inject your space with outdoor texture. The table is supported by a strong metal base with black U-shaped legs. This collection also features matching dining benches. The combination of walnut and black finishes adds warmth and styling versatility.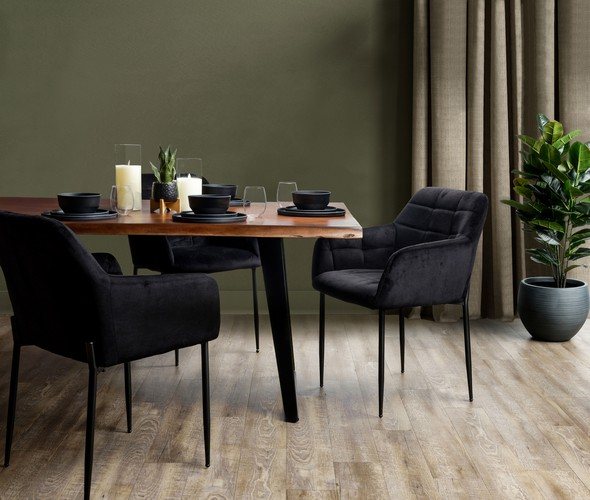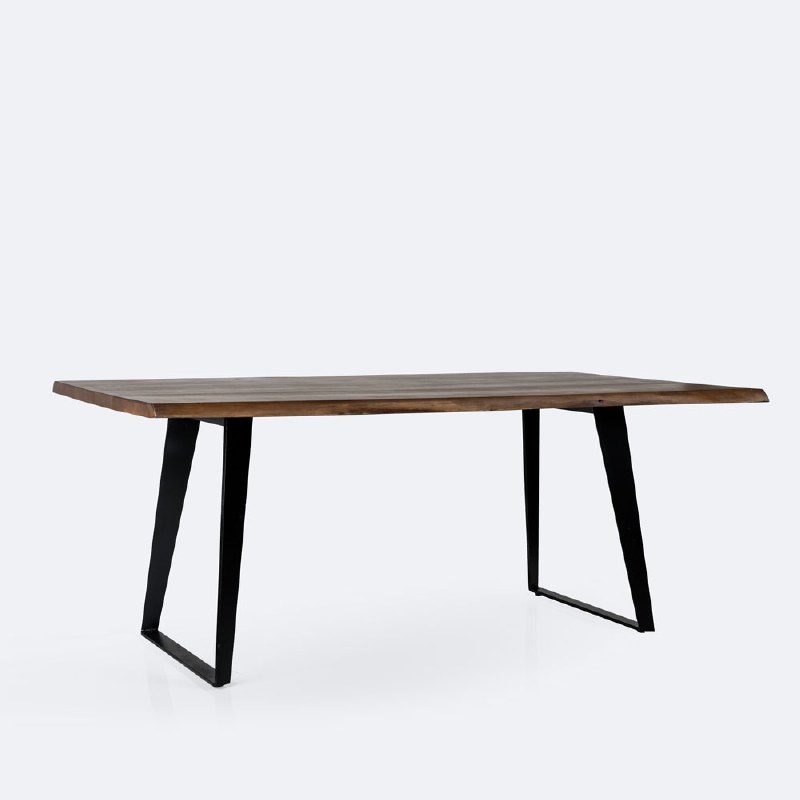 Kelowna Dining Table shown with Astoria Dining Chairs

The Oslo Wooden Dining Table
The Oslo Wooden Dining Table showcases good design with its line, shape, and colour. The Oslo table is crafted from solid mango wood and the framed tabletop bounds a cross-hatched mosaic of wooden rectangles. Slim, hairpin legs add a bit of minimalist flair to the design. The black finish of the metal adds a cool, metallic feel that's balanced by the warm tones of the wood's natural finish.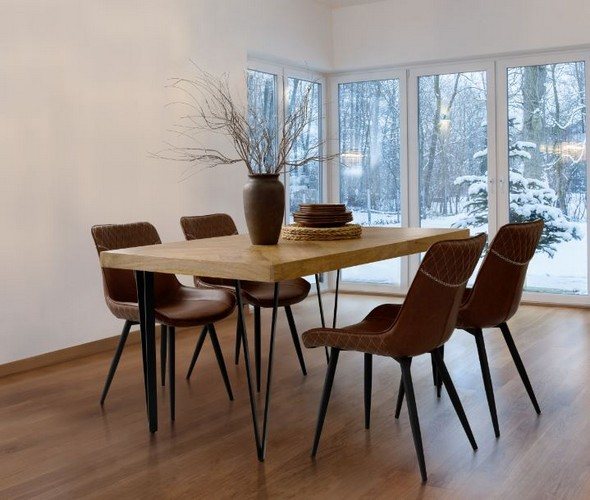 Oslo Dining Table shown with Brooklyn Dining Chairs

The Cale Wooden Dining Table
Make a bold statement in your dining room with the Cale Wooden Dining Table. This large, rectangular table seats up to eight people. Its twin pedestal base has an interesting hand crafted, linear design and a chic black finish. The table is constructed of Acacia wood and each piece of wood is unique in grain and natural edge. Pair this wooden dining table with the coordinating wooden dining bench for a designer look. The Cale wooden dining table will coordinate with most decor styles and will easily create a natural organic, contemporary dining space for your family and friends to enjoy.

The Kai Wooden Dining Table
Sleek curves and a fashionable design define the Kai wooden dining table. The Kai is built from acacia wood and comfortably seats up to four. A natural finish and round tabletop give the Kai wooden dining table a clean, contemporary look enhanced by the black iron cross leg sculptural base.  This chic profile is well suited for both casual and formal dining.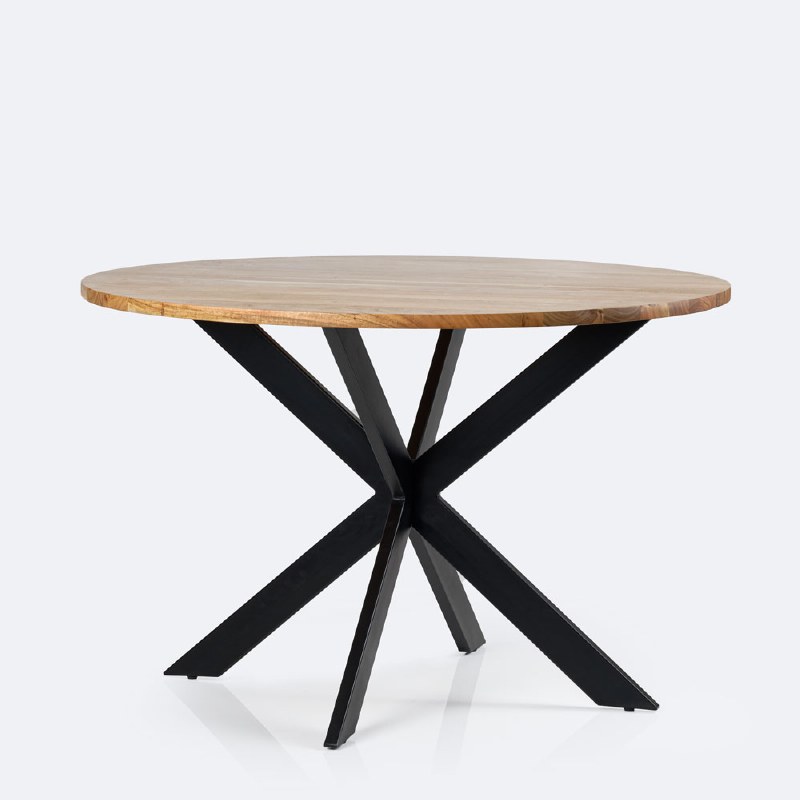 The Ambrose Wooden Dining Table
The natural and organic design of the Ambrose wooden dining table celebrates a refreshing a minimalism. This handcrafted round wooden dining table is constructed with a natural Sheshan finished Mango wood. Each piece of wood is unique in grain and natural edge. Add some stylish dining chairs to complete your dining room with a unique dining set.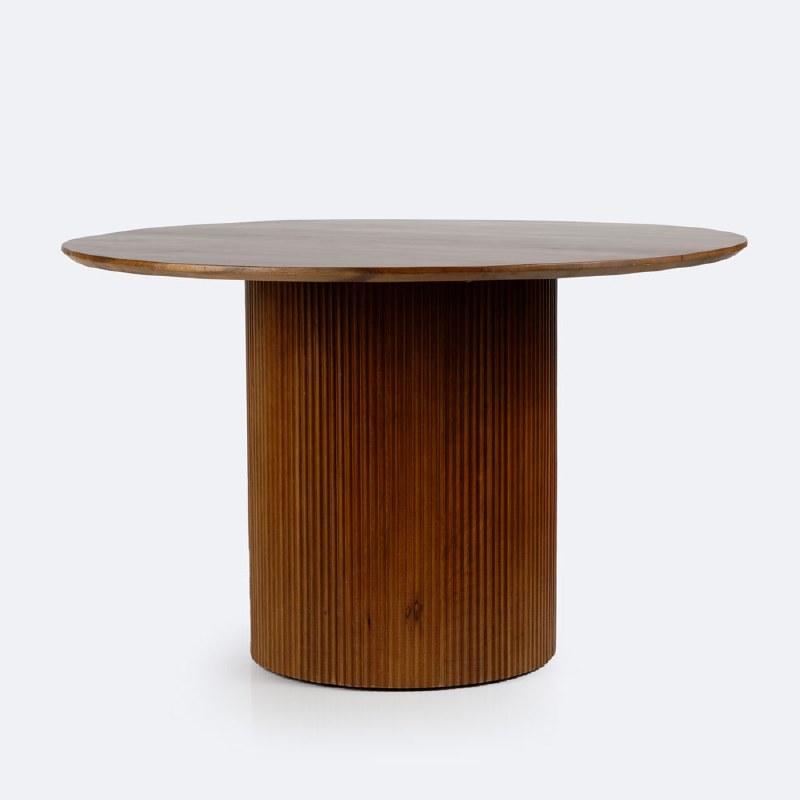 No matter what style you're going for, wooden dining tables can be the perfect addition to your home this year. With so many options available, you're sure to find the perfect one that fits your needs and style!