If you're looking for the perfect sectional, we've got the ideal one for your space, your lifestyle, and your décor sensibilities. Modern sectional sofas come in a variety of sizes and shapes, and many can be configured and reconfigured for different activities and different rooms.
Your sectional sofa can meet all your needs, even if you're not sure what those needs are yet. Explore our sectional sofa sets here on our website, and feel free to come into one of our convenient locations to see all our furniture options and talk to one of our expert design associates.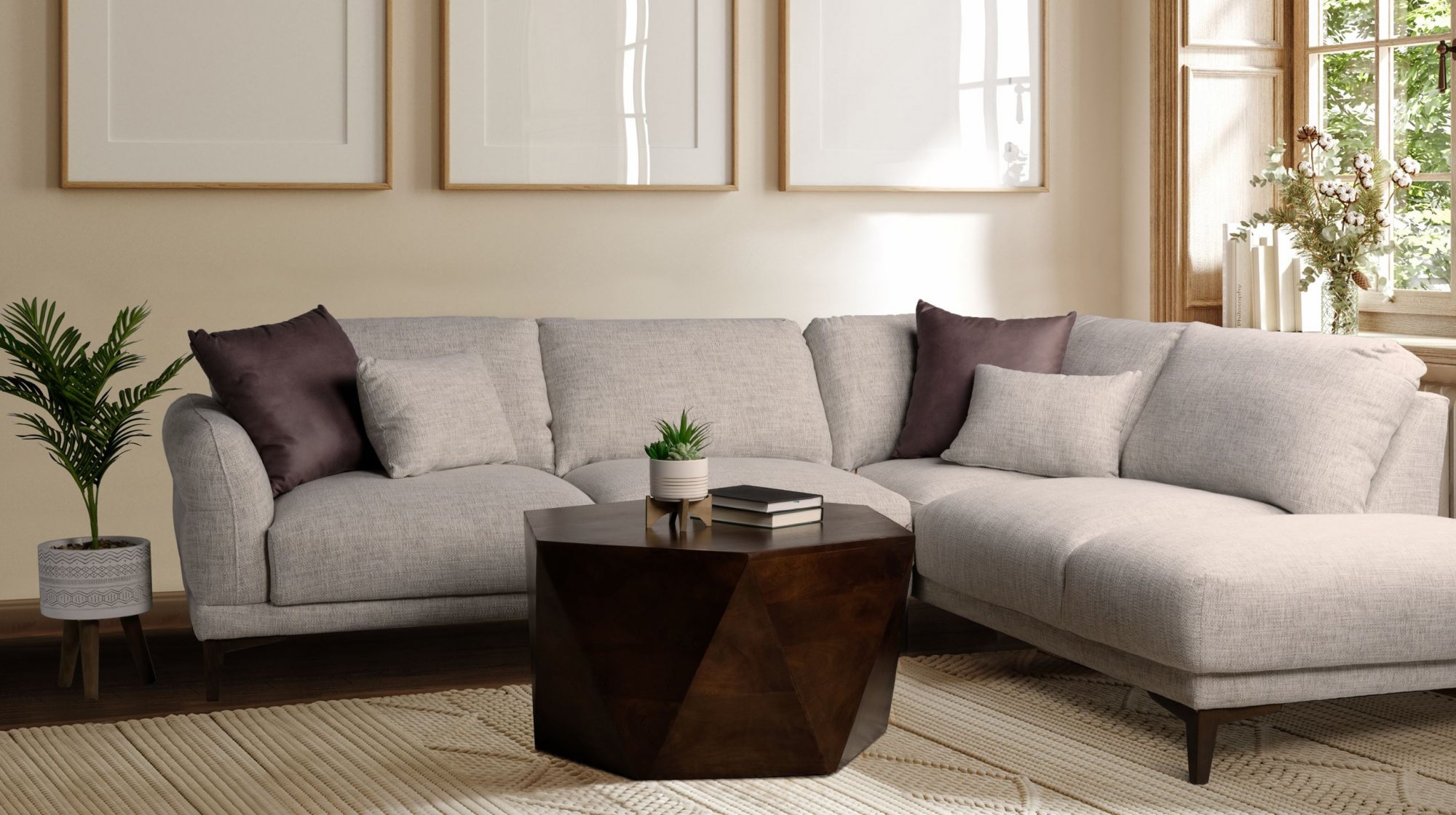 How to Choose the Perfect Sectional Sofa

Adding a sectional sofa is one of the best ways to maximize both space and comfort in your living room. However, choosing one can be daunting because of the many available options. Here are the most important criteria you need to decide which sectional sofa is for you.
The Size and Layout of Your Space Measure your living area to determine the appropriate size for your sectional sofa. Consider the sofa's length and depth to ensure it fits and doesn't overwhelm the room or obstruct pathways or sightlines. A good tip is to clear the floor where you want to place the sofa and mark off its dimensions with masking tape—this will give you a good visual of how much room the sofa will take up.
Your Style Select a sectional sofa that complements your style and your existing décor. If this is the first item you're choosing for your space, you will be decorating around it, so you'll want to pay extra attention to shape, colour, and overall aesthetics. Whether you are looking for long, sleek lines to create an MCM vibe, a more modern style, a cozy piece for city living or a compact reading nook, we have a sofa that will enhance your space and show off your stunning style. Not sure what will work with your décor sensibilities? Ask us for help!
Material and Upholstery Choose a material that suits your lifestyle as well as your taste. Consider factors such as ease of cleaning, staining resistance, and durability of the upholstery material. The Lanzii performance fabric we use for our Canadian-made sectional sofas gives you the sophistication you want, along with beauty, softness, and elegant textures. Designed by scientists and engineers, this state-of-the-art fabric is breathable, quick-drying, and easy to clean with water alone. It's ready for anything you can throw at it!
Storage Needs You can never have too much storage! If you need an extra place to stash your spare blankets, your remotes, the kids' toys, or your collection of video game equipment, add a storage ottoman to your sectional sofa! Cleanup is a breeze when you have storage right in front of you!
Versatile Seating Options We all use our sofas differently: for you, it may double as office seating, give your party guests a place to sit while they chat, or serve as a cuddle spot for your family when you're watching a movie. Regardless of how you want to use your new sectional, we have a shape and configuration that will be absolutely perfect.
L-shaped Sectionals The "L" shape is the most common type of sectional sofa. So named because one side is longer than the other, the classic L-shaped sectional is extremely versatile and comes in a wide range of sizes.
L-shaped Sectional Sofa with Chaise The L-shaped sectional sofa with chaise is an extended version of the L-shaped sectional, with an added chaise lounge. You can also create the functionality of an L-shaped sectional with chaise by combining a sofa with an ottoman. The ottoman can then be moved away from the sofa, if desired, to serve as its own seating, as a coffee table, or as a side table.
U-shaped Sectional Sofa Looking for more shape options for your sectional sofa? You can create a U-shape by adding an ottoman to both ends of a sofa! The possibilities really are endless!
Don't Forget to Measure When you're ready to buy a sofa sectional, you'll need to make sure it fits in your space. Measure the room's dimensions, including the length of each wall and the distance between doorways. Be sure to note any air vents or cold-air intake registers because you don't want to block these. You will also need to measure your door openings to ensure they are wide enough for your new furniture to fit through.
Individual Sectional Sofa Pieces Elevate your living room design with our individual sectional sofa pieces! Choose from a variety of colours and textures to create a customized sofa that perfectly suits your space. Our pieces are crafted with quality materials to ensure longevity and comfort for years to come. Mix and match pieces to create a unique and versatile sectional that can be easily rearranged. Plus, with our competitive prices, you can build your dream sofa without breaking the bank.
Small Sectional Sofa in Canada Looking for a stylish yet comfortable small sectional sofa in Canada? Look no further! Our collection of small sectionals offers a range of styles and colours to match any decor. Perfect for small spaces, apartments or cozy corners. Not only does it look great, but the soft and durable materials provide the ultimate comfort. Take your living room to the next level with our small sectional sofa in Canada.
Deep Sectional Sofa in Canada Transform your living space with the luxurious comfort of a deep sectional sofa! Whether you're binge-watching your favourite TV series or hosting a family game night, our deep sectional sofa in Canada offers plenty of seating for everyone. Get ready to sit back and relax in style with our cozy and spacious deep sectional sofa - a perfect addition to your home!
Large Sectional Sofa in Canada Introducing the perfect addition to your living space - the large sectional sofa in Canada. Featuring ample seating space for your entire family, this sofa is not only stylish but also practical. Soft cushions and a sturdy frame make it perfect for entertaining guests or lounging after a long day. Available in a variety of colours, you're sure to find the perfect one to match your decor. Don't miss out on this luxurious piece; upgrade your home today!
The Best Sectional Sofa in Canada The best sectional sofa in Canada can be yours! Sink into ultimate comfort and style with our luxurious selection of sectional sofas. Each sofa is expertly crafted with the highest quality materials and designed with modern sophistication. We have the perfect sectional sofa, whether you prefer a sleek and contemporary look or a plush and cozy feel. Don't settle for anything less than the best - upgrade your living room today with the best sectional sofa in Canada.
Custom Sectional Sofa in Canada Seeking to personalize your space with a custom sectional sofa? Choose from our contemporary styles and colours for the perfect look!
A new sectional sofa will add versatility, practicality, comfort, and style to your space. Ready to select the most flexible piece of living room furniture on the market? Browse our website for all our sectional sofas, accent chairs, and ottomans and stools. Need advice? Contact us, or come in and visit! We can't wait to help you reimagine your gorgeous living room space.