Indoor Accent Furniture
Upgrade your living room with accent furniture for homes.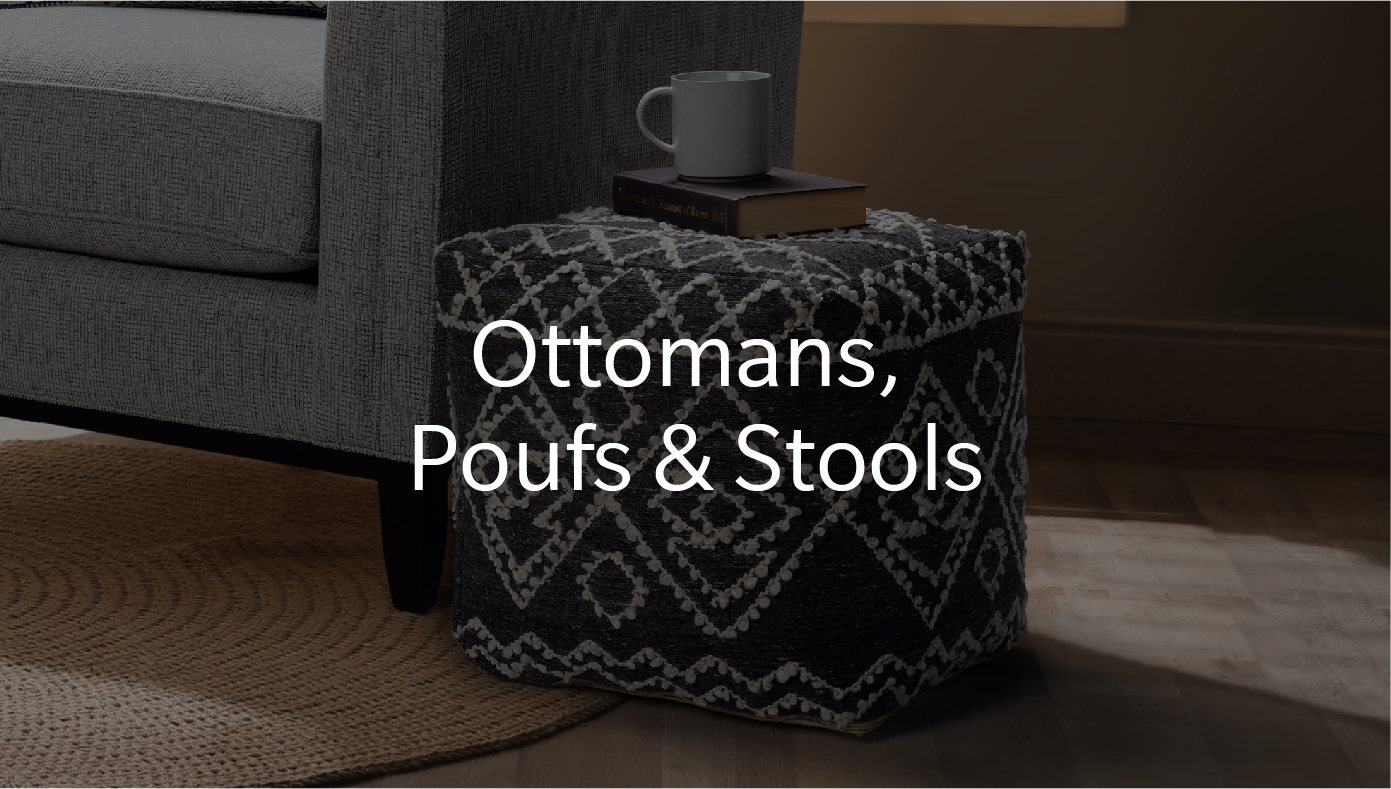 How to Choose the Perfect Accent Furniture
Styling your home doesn't often happen all at once. You can either start by working in new smaller pieces into your current space like end tables, ottomans, or bookshelves or working up to larger living room furniture items like sofas, armchairs, or loveseats. But it's the finishing touches like decorative wall art, mirrors, and home décor can pull the entire space together and make it complete.
What is Accent Furniture?
In home design, accent furniture refers to furniture that stands out by adding character and personality to a room while complementing the general décor. The role of accent furniture is mostly decorative, adding colour, definition, texture, and drama to a room. While chairs and tables tend to be used most often as accent furniture, any type of furniture can be used in this way, including benches, cabinets, desks, ottomans, poufs, stools, and more.
Here are a few tips you need to keep in mind before decorating your space with accent furniture:
What is Your Style?
Contemporary or modern, traditional or rustic, farmhouse or industrial, transitional or mid-century – you can find accent furniture to suit every style. Poufs made from natural fibres handmade in India to classic vintage designed cabinets and stainless-steel cross base coffee tables, you can shop by style that will suit your taste and budget.
What is Your Colour Theme?
If you're not dedicated to one style, look to colours and finishes to create a cohesive theme for your room. Would you prefer to Complement or contrast? Choose whether you want the accent furniture to complement the space or contrast them. Picking the style should be easy after that!
Don't Forget Proportions and Scaling
You need to consider the space you are furnishing before you add a large accent furniture For a smaller space, you should not add a large accent furniture, it will only make space look overcrowded. Consider scales and proportions while deciding on what size of accent furniture to furniture your room with.
Forget the Rules
Because accent furniture is often smaller, now you have a chance to be a little braver with your decorating choices. Consider adding some sparkle with platinum legged tables or gold mirrors. Choose an accent chair with an interesting pattern or a cabinet with a vibrant pop of colour. Taking a little more risk with the finishing details will result in a look that's less ordinary and more you.
Function and Form
When choosing accent furniture, function and form are equally important. You want a living room space that is easy to keep organized but also feels like home. You want a space that makes you happy with the colours, fabrics and materials you love but you also want the furniture to be durable, comfortable, and affordable.
Although the main purpose of accent furniture is to add to the appearance of the room, it doesn't just have to be pretty, but your choice could be more purposeful. Poufs are very handy. They can be used as a footrest; just kick up your feet and relax. Alternatively, you can use poufs as a side table by simply placing a tray on top. Best of all, when guests come over you can use it as extra seating. All that and they can add the pop of colour or soft texture to your room. Storage baskets and boxes are attractive addition to bookshelf or under and coffee table and just as the name suggests, they can be used to store items and keep your space organized and tidy.
Finding that balance between function and form is what interior design is all about … and that's when the fun starts!