WE ARE OPEN!

Shop in-store or order online & have your items delivered or pick up curbside
Home Design Trends 2019-2020
2019-12-12 at 03:59 am
Every year there are new interior design and fashion trends to consider so you can update your home with confidence and ease. Last year's trends like rose gold, geometrics and retro finishes are still very popular but it's always fun to update. With these new decorating trends and ideas along with stylish, timeless pieces, you'll easily be able to create a fresh take on your space.
1. Multi-Functional Living
The "Multi-Functional Living" trend is one of the most important and prominent trends right now. We expect versatility and flexibility in almost every aspect of our lives. This means that no matter how large or small our space is, we want more options, less clutter and more functions. We also don't want to sacrifice one furniture piece for another, so having both is the best option. And of course, since homes are becoming smaller and the price for every square foot a home is rising everyday, multi-functional furniture is no longer a want but a necessity.

Some staple items for a multi-functional space include bar or counter chairs that can be used to save space and dine at the counter; the sofa beds that can double as a sectional, a queen-size bed, and offers extra storage under the chaise; nesting coffee tables that can be made smaller or larger depending on your need for surface area, or each table can be used individually as two side tables and one coffee table, and the addition of a storage stool - it can double as an extra seat, side table and storage space.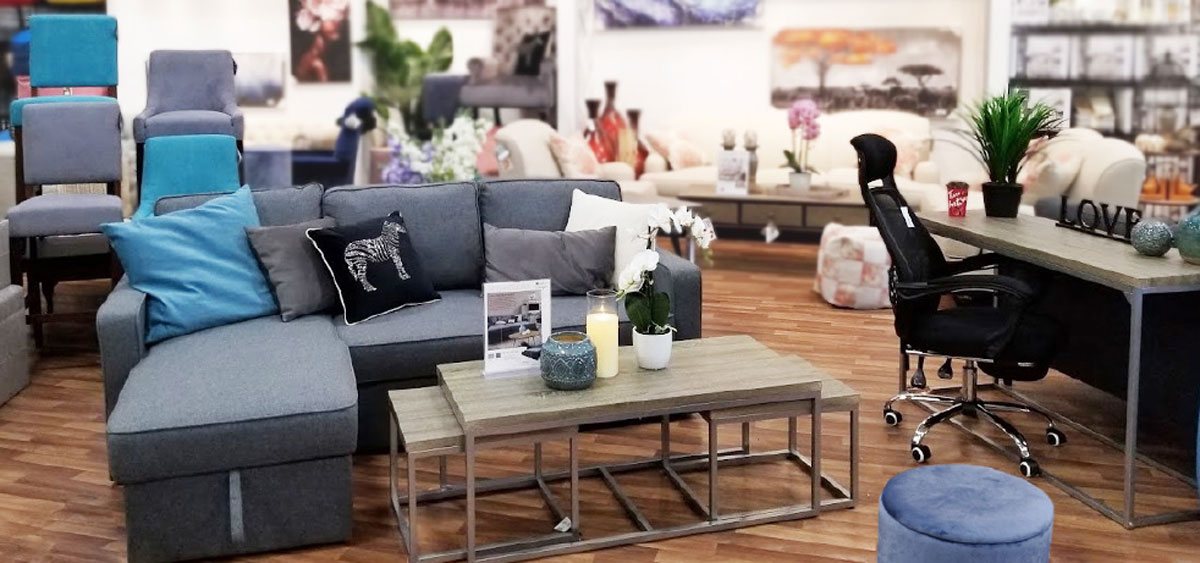 Featured Items:
24 Hour Sofa Bed
Aden Tables
Office Chair with Footrest
Storage Stool
Deco Counter Chair
Adda Bar Chair
Ceramic Blue Vases
Glass and Wax LED Candle
2. Elegant Chic
"Elegant Chic" is a simple, refined look. Colours such as golds and roses accent this theme while the base look uses minimal fresh or light colours. The use of different textures and materials is very important to this look as well. These textures bring a more sophisticated look that would otherwise look too simple. The design of the furniture also uses simple shapes, avoiding too many patterns or distracting elements.
Elegant Chic is popular because it offers a cultivated look that can easily be changed by simply making a few tweaks to some accessories. So even if this trend fades quickly, the furniture and accent choices don't!
Featured Items:
24 Hour Sofa Bed
Alta Accent Tables
Velvet Bench
Tinted Glass LED Candles
Artificial Orchid
3. Handcrafted Authenticity
"Handcrafted Authenticity" Handcrafted pieces that combine original techniques with a modern day perspective are dominating furniture choices. With furniture and accents that that are handcrafted or have a handcrafted look, there is always the beauty of variance. Mass produced pieces that match throughout your space can end up with a stale look, while the addition of some authentic pieces can help relieve some of those issues.
Traits of authentic furniture and decor include real wood grain, hand painting, rough or unfinished materials, and textured fabric.
Featured Items:
Amherst Sectional
Llyne Tables
Quilted Pouf
Jute Storage Baskets
Pewter Ceramic Vase
Wooden Decorative Tray
4. Velvet
Velvet - once a dated material with few finishes to choose from has now exploded in interior design and fashion. It's reported that online furniture retailers have seen exponential increases in searches for velvet items year on year!
Experts believe that this trend is so popular because of its luxury, richness, finish options, and because it is now more sturdy than it once was. But those aren't the only reasons for it's popularity. It is also a fabric versatile enough to span across several different styles - from traditional, to bold, to minimalist design.
Featured Items:
Storage Stools
Tufted Ottoman
Celeste Accent Chair
Baylor Accent Chair
Leafs Oil Painting