WE ARE OPEN!

Shop in-store or order online & have your items delivered or pick up curbside
6 Must Have Firepits to Make Your Summer Last Longer
2018-10-09 at 17:41 pm
Let's face it, there is something truly magical about watching a flame. And with a firepit, you can have that ambiance and tranquility with function and fashion – it warms up your nights, extends your summer, and it makes a perfect centerpiece of your outdoor oasis. We have picked 6 fire pit tables that can be coordinated into any setting, so you can find the perfect size, shape and style to make your summer last longer!
1. Breeze
The stand out feature of the Breeze Firepit Table is the beautifully detailed and intricate top paired with its refined style. It's 42" square – not too big and not too small – and great for enjoying the warmth of a flame, but still large enough to place food and drinks around. It's cast aluminum and hand finished in 2 colours: Black Tippet and Shade Grey. The propane tank is concealed under the table and there is a convenient pull open door for ease of access.

Perfect Match! Shade Grey matches June Deep Seating in Shade Grey and Carlo in Grey. Also coordinates well with a variety of our collections in greys like Amari in Grey and Cameron in Bermuda. Black Tippet matches Reel Weave Deep Seating, Cameron, June Deep Seating in Black Tippet, and coordinates well with a variety of other colours as well!
2. Carmel
The Carmel is a versatile fire pit that comes in Black Tippet. It also comes in 2 sizes; 42" square and 32"x50" rectangle. The simple design is perfect for matching virtually any set in small or large sizes alike. It also features a smooth top which is perfect for doubling as a table. Another feature of this fire pit is it's 40,000 BTU's of heating power and attractive smooth design. This outdoor firepit table includes a stainless steel accessory kit and lava stones.

Perfect Match! Any of our Black Tippet Collections.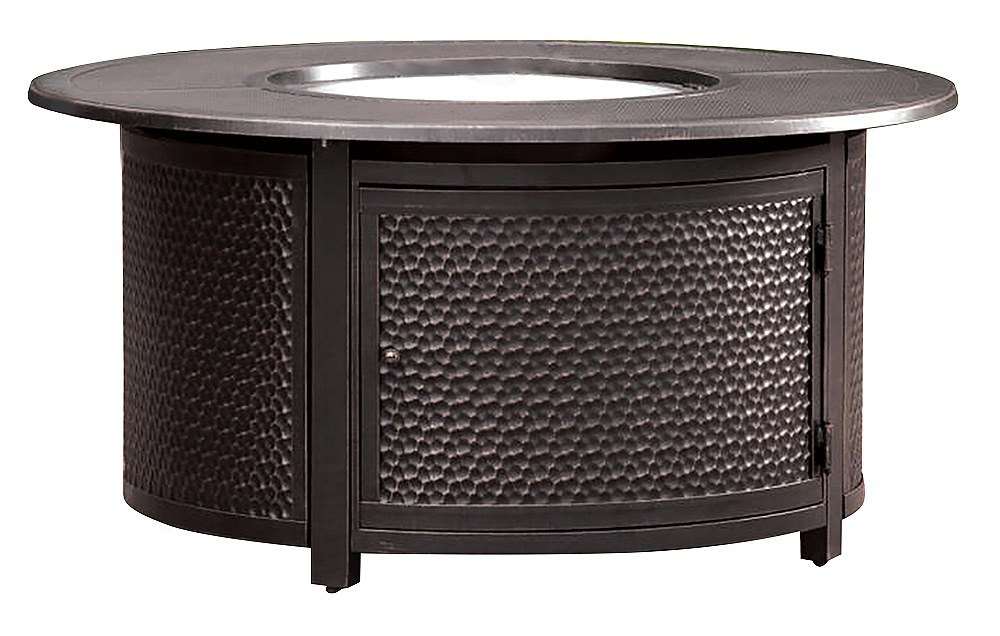 3. Monterey
The Monterey Firepit Table comes in 48" Round and 43" Square in Black Tippet. It's made of cast aluminum and is visually stunning with a unique hammered design. The design features an expansive surface perfect for serving meals while enjoying the comforting warmth of a flame. The round table is a great option for easily maneuvering around the table or incorporating it with a round sectional, while the square table may fit into more angular patio areas. Included is the stainless steel fire pit accessory kit, clear glass fire pit stones beads, a cover and a natural gas conversion kit! This firepit is capable of producing up to 55,000 BTUs of heat using just a 20 lb propane tank (not included).

Perfect Match! Matches with any of our Black Tippet Collection and coordinates well with a variety of other colours as well!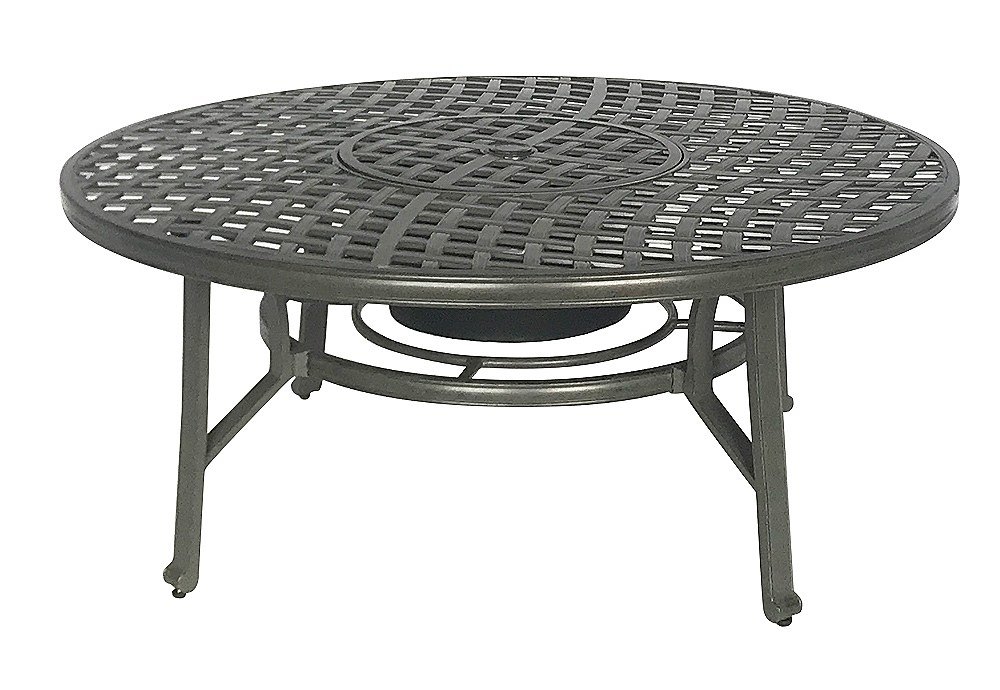 4. June
The June Chatting Table, unlike the rest of the fire pits in this list, can be used as a classic wood burning fire pit. Alternatively, it can also be used as a chatting table, while the insert can be used as an ice bucket in the center of the table. It features a simple, but elegant weave pattern and is constructed of cast aluminum. Black Tippet and Shade Grey

Perfect Match! Matches the June collection, any of our Black Tippet or Shade Grey collections, and coordinates well with a variety of other colours as well!
5. Weave
The Weave Firepit Table features the most variety and selection, designed for everything from an ultimate outdoor entertaining area to a small quaint haven. It comes in 3 sizes and 2 shapes! 32"x56" rectangle in Black Tippet, 42" round in Shade Grey, and 48" round in Black Tippet. The classic cross weave pattern is a timeless look and variety of colours and shapes makes this firepit a great choice for any style, shape and space. The fire pits use propane gas and includes a storage area under it for hiding your 20 lb propane tank.

Perfect Match! Weave Collection, Reel Weave Deep Seating, Cameron Sectional, June, Carlo and more!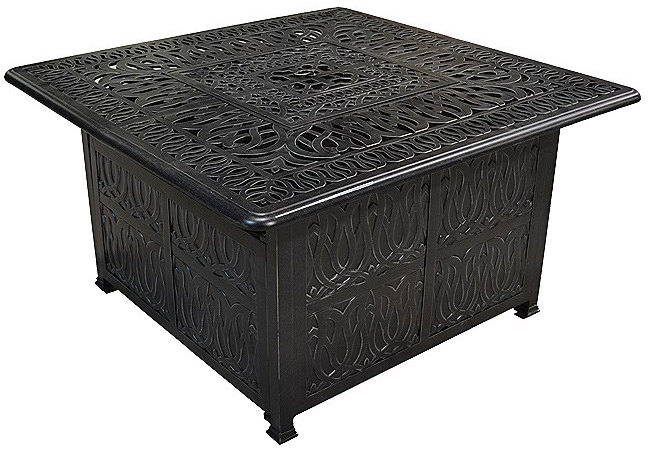 6. Karina
The Karina Firepit Table is our most intricately designed fire pit with a beautiful pattern on the top and sides. It's square shape makes it easily transition from both modern to traditional, but most of all it offers a luxurious style. It's 44" square and constructed of cast aluminum in Black Tippet finish.

Perfect Match! Matches with any of our Black Tippet Collection and coordinates well with a variety of other colours as well!
Don't forget!
Fireglass Beads
The finishing touch to every fire pit table are the beautiful glass fire stones. With a selection of black, brown, blue, purple and clear, you're sure to be the envy of the neighbourhood!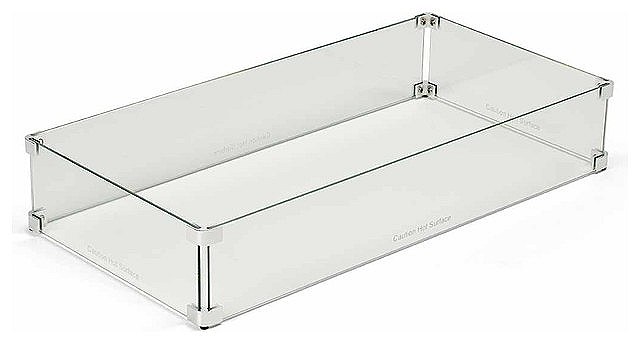 Wind Guard
The Glass Wind Guard is the perfect safety addition to your fire pit table. It will shelter the flames from high winds and children's reach and provide additional ambiance to your outdoor living space. Made of high quality tempered glass, the durable screen can withstand high heat and works with both propane and natural gas fire pit tables.