What makes D.O.T. THE Patio Experts?

D.O.T. Furniture has over 20 years of experience in the patio industry. Over this time, we have acquired the knowledge and understanding for providing the best advice on quality, function and price point. We have extensive knowledge of materials, and want to help you make the best choice your you and your family.

Having the perfect backyard is not as impossible as your think. Our secret… the endless possibilities provided through our mix n' match method. Each item is sold individually which allows seamless pairing with other styles within the store. Having the look and feel you want in your backyard will encourage you to spend more time outdoors and with your family havingthose fun filled parties, great barbeques or quiet evenings.

Plan ahead for the most success!
1. What do I want from my patio furniture? Buy the right furniture and your outdoor space will be a success. Will you be using your furniture for dining, socializing, relaxing or all of the above? Is it for those great outdoor parties, somewhere to relax after a hard day's work or both? Knowing what you want to achieve from your backyard haven will make your decision making all that easier.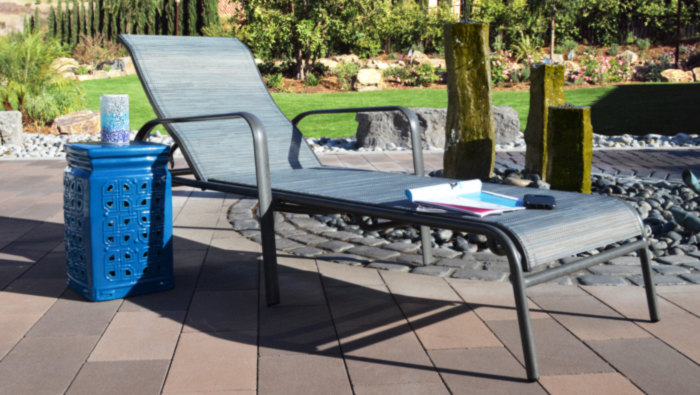 2. Know your space! The first step to finding the perfect patio furniture setup for your outdoor living area is to understand exactly how much room you have to work with.

Measure! We as patio experts are skilled at helping you organize your space so come ready with your measurements – maybe even a photo!
Size vs Space The shape of your space will also play a roll in what works best for you. Is your space long and narrow? Square? Or maybe you have an oddly shaped patio. Also consider where there might be stairs, doors or windows.
How Many People Will You Entertain? How many people will you typically host? DOT Furniture carries a huge range of table sizes from a 20" side table perfect for a margarita by the pool all the way up to a sit down dinner with all the trimming for fourteen. Additionally, we have modular relaxed seating options which can accommodate virtually any size, big or small.


3. Set your budget
The important thing to remember is that with patio furniture, like anything else, you need to think about quality as well as cost. Quality patio furniture and patio accessories will last for many years and are well worth the additional cost.
We also offer 0% interest financing options for up to 12 months.

4. Choose your material Before making a purchase it's a good idea to think about how a piece is constructed, as different materials have varying functional, comfort and maintenance considerations. Our selection of patio furniture is available in cast aluminum, sling, resin wicker and wrought iron.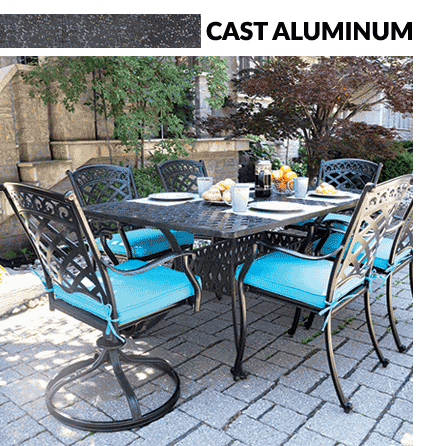 5. Mix&Match
Are you looking for a uniform patio set for entertaining? Maybe you would like a more eclectic look? Our selection of quality patio furniture can be purchased in sets or separately, allowing you complete control over how your outdoor living area will look.
Patio furniture sets come in a wide array of styles including bar sets, dining sets, bistro sets and lounge sets with a variety of colours and seating options at your disposal. If your looking for a more diverse appearance, you can mix and match from our huge selection of patio tables, patio seating and accessories. Mix mediums like cast table or teak tables with wicker chairs.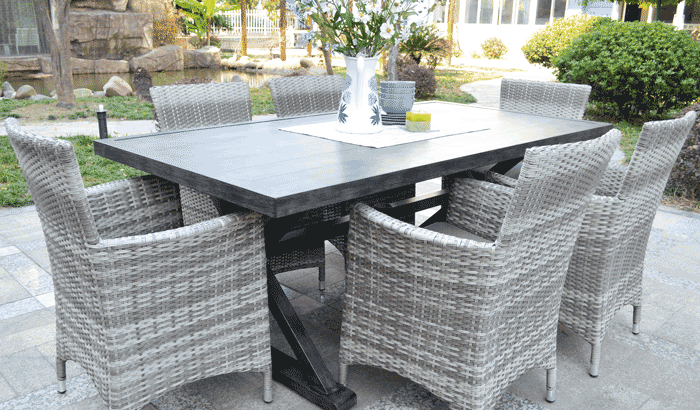 6. Accessorize Once you've found the perfect furniture for your deck or patio, it's time to accessorize with accents that will add personality and usability to your outdoor living space. Depending on what your planning on doing on your deck or patio, you have a wide array of patio accessories to choose from including throw pillows, furniture covers, lanterns, fire pits, umbrella, parasols, gazebos and much more. Finding the right accessories for your patio furniture will help complete the look and feel of your outdoor living area.